Erhaltet den Hawerkamp Festival 2023
Juni 7 @ 23:00

-

Juni 8 @ 05:00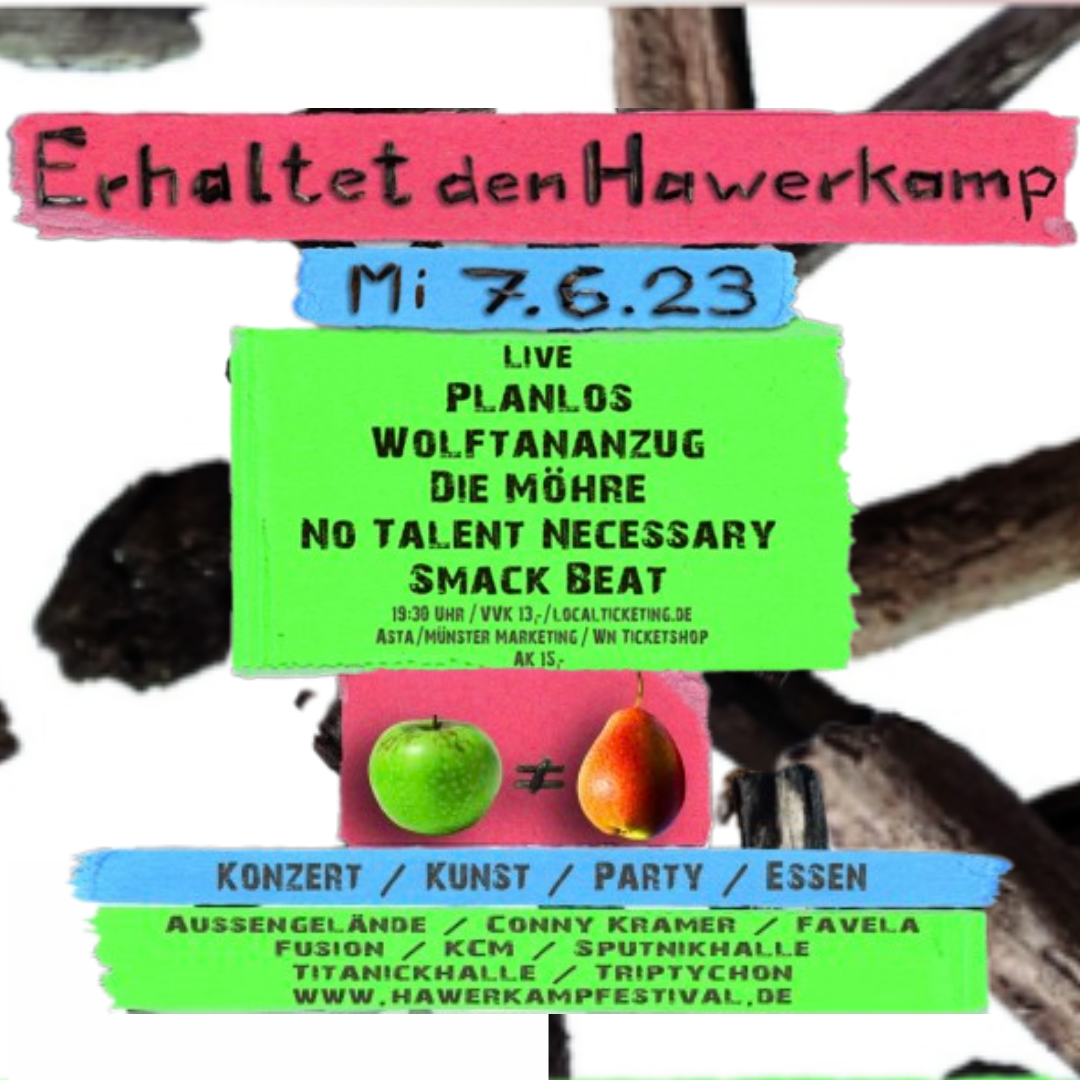 Das Erhaltet den Hawerkamp Festival in Münster ist eine feste Größe in der Kulturszene der Stadt und findet bereits seit 1999 statt. Tausende Besucher pilgern jedes Jahr zu dem Festival, das ein absolutes Highlight in der Münsteraner Kulturszene ist.
Erlebe alle Clubs und zahlreiche Kultur- und Musikveranstaltungen im Außenbereich an einem Abend und das zu einem unschlagbaren Preis! Für das leibliche Wohl sorgen internationale Köstlichkeiten.
Weitere Informationen und Details zum Programm folgen in Kürze.
Der Erlös des Festivals kommt dem Hawerkamp 31 e.V. zugute.
Der Hawerkamp 31 e.V. ist ein Verein, der sich dem Erhalt des Kulturstandortes Hawerkamp verschrieben hat. Er finanziert den Erhalt des Geländes aus den laufenden Mieteinnahmen und dem jährlich stattfindenden Hawerkamp-Festival. Mehr als 50 Künstler, Kunsthandwerker, Clubs, Konzertveranstalter, Gastronomen und soziokulturelle Vereine arbeiten auf dem Gelände. Der Hawerkamp zieht tausende Besucher an und ist ein Ort des öffentlichen Lebens, an dem Kunstausstellungen, Konzerte, Clubfestivals, Theater und Kunstworkshops stattfinden. Außerdem finden internationale Konzerte und Partys mit bekannten Bands und DJs statt, und Film- und Fernsehteams nutzen das Gelände.
Happy to Announce:
Fusion
House / Techno
Sputnikhalle LIVE ab 21.00 Uhr
Wolftananzug & PLANLOS
Anschließend Party Rock und Alternative
Sputnikhalle Garten
Reggae By "Chalwa Sound mit den DJs: Frank und Sascha"
Sputnik Café
Special Shark Attack Metallcore, Hardcore, Emo, Punk.
Triptychon
Mixed Media Ausstellung & DJ
Conny Kramer
´90 all Night long, Indie, Hiphop, House & Techno
Favela
Hardtechno mit Lars Voigtländer, Deep91, Muenx, Luzius
KCM
Schlager, Disco, Pop & Trash
Titanickhalle
KHAOS FUCKTORY
Das Künstlerkollektiv Khaos Fucktory haut euch mit einer Pop-Up-Ausstellung um, die jede Menge grelle und laute Kunstwerke präsentiert. Ihr könnt euch auf eine wilde Mischung aus Müll, Resten und bizarren Motivationen freuen, die von allen Mitgliedern des Kollektivs mit viel Übermut und ohne Ego gestaltet wurde. Die Werke sind im ständigen Wandel und entwickeln sich während der Ausstellung weiter oder werden sogar vernichtet. Wenn ihr Bock auf freche und punkige Untergrundkunst habt, dann kommt vorbei und lasst euch von der Khaos Fucktory überrollen.
Mojitotanke
Freiluftbeats von DJ Mulomulo, Elektro
Außenbereich (Kinoplatz)
Die Möhre (Rythm and Blues): Buntes Treiben mit Soul bis Rockiger Besetzung auf der Möhre – Bühne. Ein Zusammenhang mit Buvo Kulturwerk und Atelier Musikern wird mit Spannung erwartet. Live und in Farbe.
Early Bird 9,00 € / Vorverkauf 13,00 € / Abendkasse 15,00 €
TICKETS